Catan Explorers and Pirates Land Ho is an expansion for the popular board game Catan, designed by Klaus Teuber and published by Catan Studio. It was first released in 2013 and adds new gameplay mechanics, scenarios, and components to the base game. Thus allowing players to explore new lands and encounter new challenges.
Guide To Catan Explorers' Pirates Land Ho
The Explorers and Pirates expansion includes five scenarios, each with its own set of rules and objectives. In each scenario, players take on the role of explorers and pirates, sailing their ships to different islands. Whilst trading with the locals, and building settlements and cities. The scenarios can be played individually or also combined to create a larger, more complex game.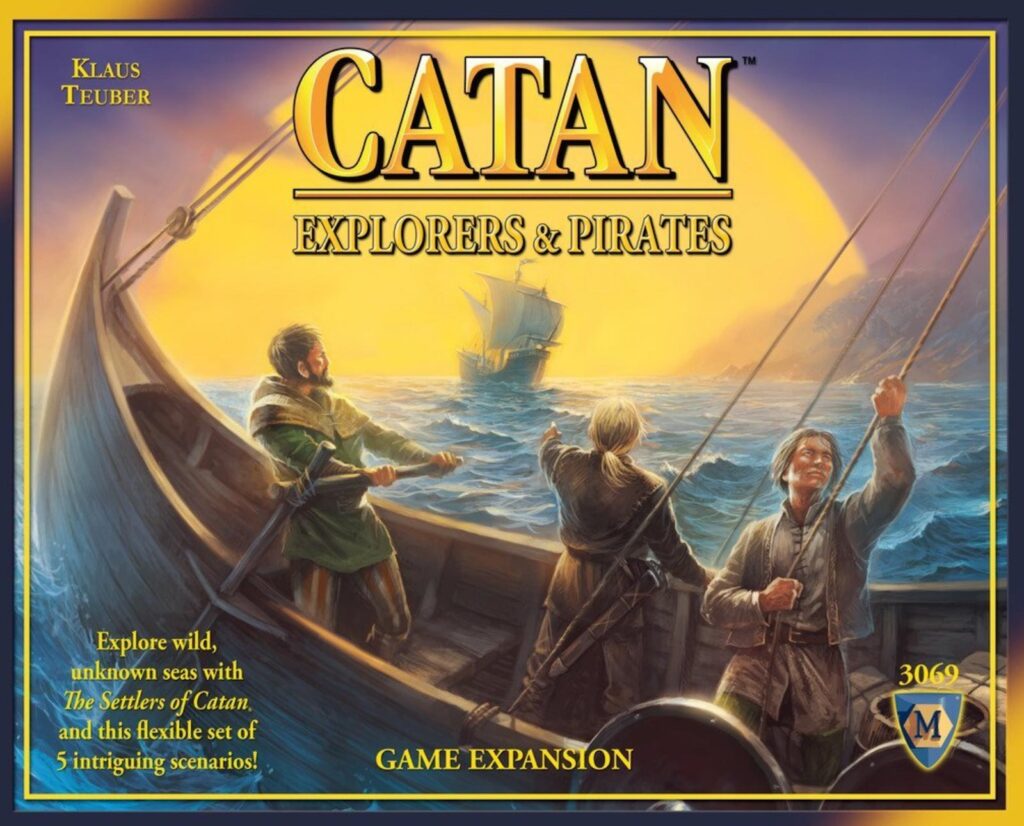 This post may contain affiliate links. Which means we may receive a small commission if you click a link and purchase something that we have recommended at no extra cost to yourself. As an amazon, associate, we earn from qualifying purchases
Land Ho Is The First Scenario Of Catan Explorers
The first scenario is called "Land Ho!" and introduces players to the basic mechanics of the expansion. In this scenario, players start on a single island and must explore the surrounding waters to find new islands to settle.
Each island has a unique set of resources and challenges! Such as dangerous sea monsters or hostile natives. Players must build ships, plus trade with other players, whilst managing their resources carefully in order to survive and thrive.
How to set up Land Ho
Preparation
Each player chooses a color and takes the following game pieces:
5 settlements from the base Catan game
15 roads from the base Catan game
4 harbor settlements from Explorers &Pirates
3 ships from Explorers &Pirates
2 settlers from Explorers &Pirates
2 gold from Explorers &Pirates
1 Explorers &Pirates building costs card
Place your pieces in front of yourself. The remaining wooden game pieces from Explorers &Pirates are not used in this introductory scenario.
Place the resource cards and dice from the base Catan game beside the game board to form a supply area.
Place the remaining gold coins in the supply area as well.
What Is The Key Objective Of Land Ho
One of the key new mechanics in the expansion is the introduction of ships. Players can now build and move ships, which allow them to explore new territories and transport goods between islands.
Ships can be upgraded with better sails and stronger hulls. Thus making them faster and more resilient to damage from sea monsters or other players.
Another new mechanic is the introduction of gold. Players can now collect and trade gold, which can be used to hire pirates or buy special abilities that give them an advantage over their opponents. Gold can also be used to upgrade ships or build new settlements and cities.
Tips For Winning Land Ho
Winning this scenario requires a combination of strategic planning, resource management, and some luck. Here are some tips that may help you win the game:
Start by building a strong fleet of ships. Since the game involves exploring new islands and settling there, it's important to have enough ships to transport your settlers and resources. Build a few basic ships at the beginning of the game, but be prepared to upgrade them later with more advanced ships that have higher movement and storage capacity.
Focus on building settlements and cities quickly. The faster you can build your settlements and cities, the more resources you will have at your disposal, and the more opportunities you will have to build new settlements on the newly discovered islands. Try to focus on areas of the board with high production numbers and scarce resources that are in high demand.
Keep an eye on the pirate ship movements. Pirates are a constant threat in this scenario, and it's important to keep an eye on their movements and avoid getting caught in their attacks. Try to build your settlements and ships in areas that are out of the pirate's reach or are less likely to be targeted by them.
Trade resources with other players. Since each player starts on their own island, it can be challenging to gather all the resources you need to build settlements and cities quickly. Trading with other players can help you acquire the resources you need, and it can also help you gain an advantage over your opponents by denying them the resources they need.
Be flexible in your strategy. The game board is constantly changing as new islands are discovered, and it's important to be flexible in your strategy and adapt to the changing conditions. Don't be afraid to switch your focus from building settlements to exploring new islands if you discover a valuable new resource or a strategic location that could give you an advantage.
By following these tips and being flexible in your strategy, you may be able to emerge victorious in the Catan Land Ho! scenario.
How To Build Victory Points In Land Ho
In the "Catan: Explorers and Pirates" expansion, the "Land Ho!" scenario provides a unique way to earn victory points by exploring and colonizing new islands. Here are the steps to earn victory points in this scenario:
Explore Islands: Players can explore new islands by moving their ships to unexplored hexes and rolling the die. The die roll determines whether the hex contains a resource, a gold field, a pirate, or nothing.
Build Settlements and Cities: Players can build settlements and cities on newly explored islands by spending resources and gold. Each settlement or city built earns the player one victory point.
Build Improvements: Players can spend resources and gold to build improvements such as harbors, ships, and cannon emplacements, which can provide various benefits such as increased resource production or protection against pirates.
Defeat Pirates: Pirates can raid players' ships and settlements, causing damage and stealing resources. Players can defeat pirates by building cannon emplacements and upgrading their ships. Defeating pirates can earn the player victory points.
Complete Missions: The scenario includes mission cards that players can complete to earn victory points. Each card has different requirements, such as building a certain number of settlements or defeating a certain number of pirates.
Be the First to Reach the Target Number of Victory Points: The number of victory points required to win the game depends on the number of players. The first player to reach the target number of victory points wins the game.
It's worth noting that in this scenario, players can also earn victory points by trading with other players and with the central game board. However, exploring and colonizing new islands is the main way to earn victory points.
In Conclusion
Overall, Catan Explorers and Pirates Land Ho is a fun and challenging expansion that adds a lot of new gameplay elements to the base game of Catan. With its unique scenarios, new mechanics, and high-quality components, it's a must-have for fans of the game who are looking for a new challenge.