Fans of Catan will know you can add to enhance game play by adding Catan Expansions. However you will also need a Catan Base Game in order to play Catan Explorers & Pirates. However this will add a whole new element of game play to the game. The game like Settlers of Catan is for 2-4 players and can also be played alongside other Catan Expansions and Extensions as long as you are also playing the Catan Base Game.
This post may contain affiliate links. Which means we may receive a small commission if you click a link and purchase something that we have recommended at no extra cost to yourself. As an amazon, associate, we earn from qualifying purchases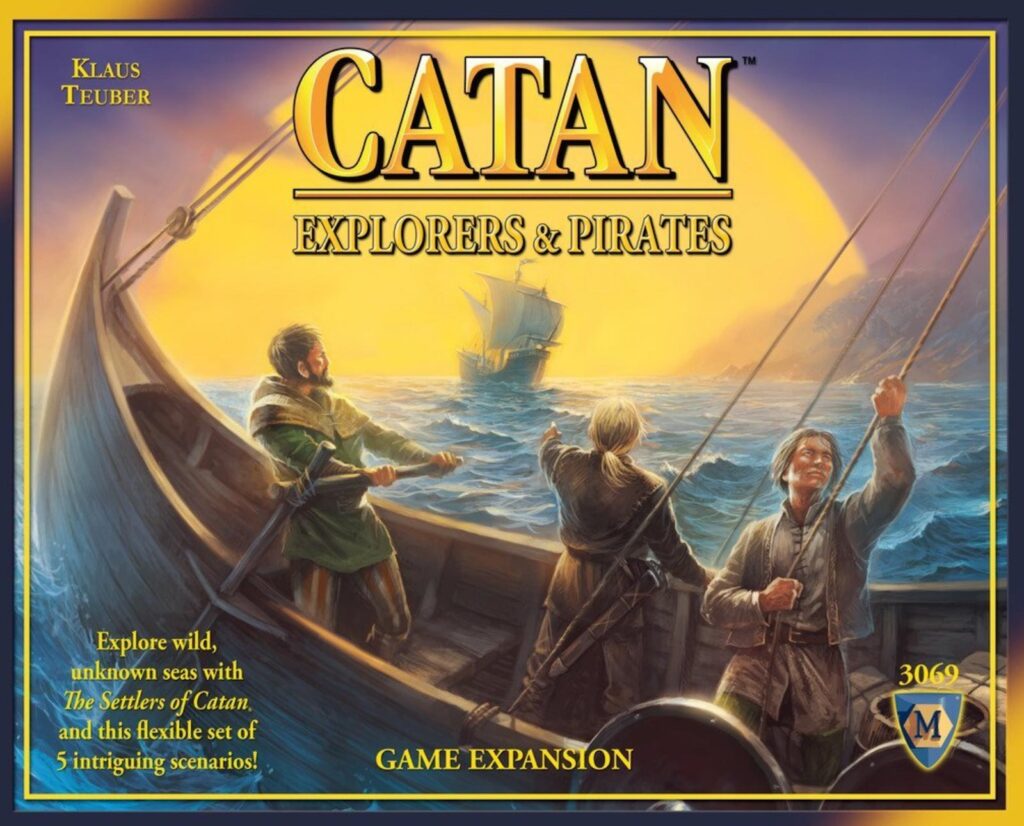 What Is Catan Explorers & Pirates About?
The aim of Catan Explorers & Pirates is to build harbour settlements, ships, settlers, and sailing crews. When ready you set sail across mysterious seas in search of new lands, spices, fish, and gold fields. Along the way you can challenge pirates on land and sea as you make new friends, learn to fight pirates and carry settlers to claim farway territories.
The 5 Scenarios Of Explorers & Pirates
This is the recommend order you play the scenarios in, the reason being, each new scenario brings more rules. Start with Land Ho and gradually build your way up to Explores and Pirates. This way you build game expertise and knowledge as you go.
Land Ho
In Land Ho you must explore the seas of Catan and discover two new islands to expand your settlements. Once you have discovered a new island, you must use your ships to ferry settlers from one island to another to claim and colonise distant lands.
Pirate Lairs
In Pirate Lairs, pirates prowl the seas along with your trading vessels. You must pay tribute to the pirates or drive them off! The aim is to find and capture their lairs to earn gold and Victory Points.
Fish For Catan
In Fish For Catan, the people of Catan are short of food, thus you must fish the ocean for meals. However you are searching for deep water fish, so first you must identify their shoals before catching them.
Any player returning fish to the island and capturing pirates lairs will be rewarded Victory Points. However beware of roaming pirates, they demand gold for tribute, but they also may get to the fish before you do.
Spices For Catan
In Spices For Catan you must find fish and spices for the people of Catan, with the offer of successful traders winning victory points. However to obtain spice, you must befriend the mysterious inhabitants of the Spice Islands.However in return they will trade you spices and also teach you tall they know about sailing and pirate fighting techniques.
Explorers and Pirates
Explorers and Pirates is a longer more challenging scenario, which brings everything from the previous scenarios together. Thus enabling you to Explore new lands, find fish, capture pirate lairs, find fish, and also befriend the inhabitants of the spice islands.
What's In The Box?
To give you an idea of what is the Catan Explorer's and Pirates Expansions.
16 harbor settlements
36 crews
12 ships
8 settlers
4 pirates
6 pirates' lair tokens
6 fish hauls
24 spice sacks
76 gold coins
6 gold fields
6 fish shoal hexes
12 standard terrain hexes
6 spice hexe
15 frame pieces
12 number markers
3 mission cards
3 victory point cards
4 new building cost cards
Can You Get An Extension For Catan Explorers & Pirates ?
Yes there is a 5-6 player extension available, however you will also need the CATAN base game, the Explorers & Pirates Expansion, and both the CATAN 5-6 Player Extension and this Explorers & Pirates 5-6 Player Extension. That is a total of four game boxes needed to play.