This article should hopefully explain how to play Catan, it's the Catan rules explained.
Most articles I read online will tell you that Catan is easy to learn, and learning strategies to outsmart your opponents is the tricky bit.
Personally I think the fact that there are 16 pages of instructions makes it difficult to learn and it can feel quite overwhelming at times. When I was learning to play Catan we took out the box 3 or 4 times and started to read the instructions before putting it away again and saving it for another time – and this was in lockdown when we had nothing else to do. But do persevere as Catan is an amazing game and I promise you will love it.
Here are the official Catan Rules
CATAN – Game Rules & Almanac (3-4 Players)
In the end the first game took us over 2.5 hours to play with a lot of referring back to instructions but the second game was easier and then by the time we played the third game we were working out our own strategies and getting a fun game finished in about an hour.
So here is our Summary of the Catan Rules
Summary of the Catan Rules
How many players in Catan?
Catan is a board game for two to four players in which you compete to gather resources and build the biggest settlements on the fictional island of Catan
How long will a game of Catan take?
Catan will take approximately one hour to play.
How to play Catan – Set up the Board
The first thing to do when you play Catan is set up the board. We have a whole other post on different ways to set up the board (in fact the fact that the board can change is one of Catan's best features) but when you are learning the Catan Rules and want to play the easiest way, you should set up the board in exactly the way shown in the official Catan Rules.
This is what you need to do:
Clip together the blue edges of the board. These have numbers on to show you which order to do this in.
Place the hexagonal tiles as show below.
Place the numbered circle makers exactly as shown below.
The robber starts in the desert. This does not have a number on.
This official and original board (as shown below) makes the fairest board so it's what you should start with when you're learning to play Catan.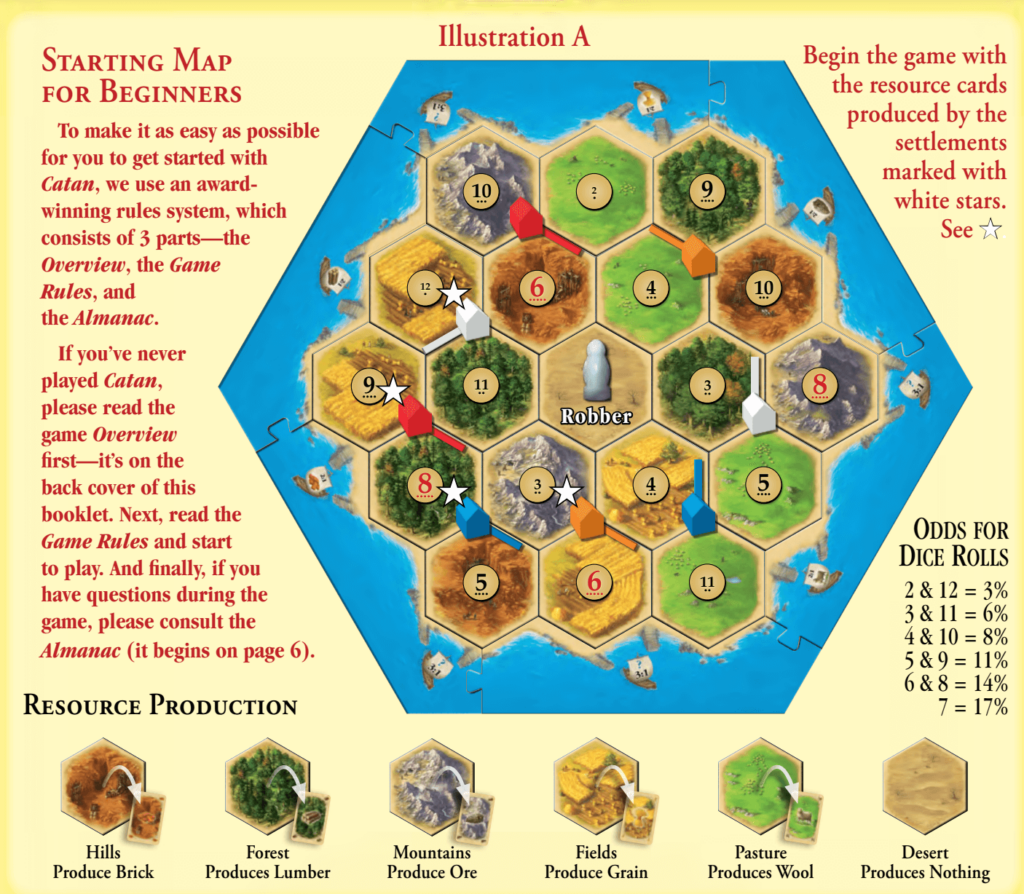 Choose a colour to play and put the five settlements, four cities and 15 roads of your colour in front of you.
If this is your first game place place the settlements and roads on the board as you can see above. If you've played a few games and want to mix it up, take it in turns to put one settlement on the board and a road next to it, until you've all done two each.
You also have a building card -which sets out what resources you need to build a settlement, road or city and what you need to buy a development card.
Separate the resources into sheep, wood, brick, ore and wheat. One player will perform the banker role similar to that in monopoly.
To begin you get a resource from each of the tiles next to your settlements
How to Play Catan – What to do on your go
When it is your turn to play in Catan you can do three things
Get resources
Trade with other players/ and or the bank
Build something/take cards
1. Get Resources
First roll the two dice.
The number on the dice applies to everyone.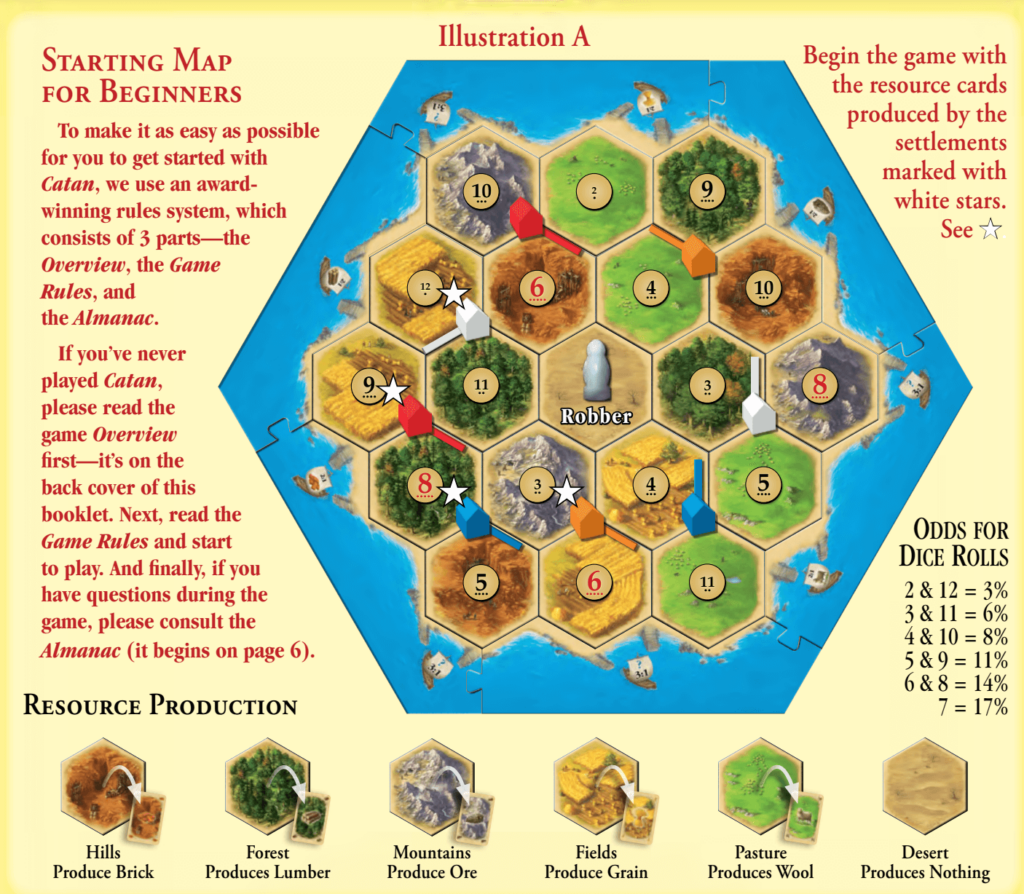 Looking at the board above, if you roll a 5 then the white player gets wool as their settlement is placed next to the number 5 hexagonal (wool) and the blue player gets both wool and brick as their settlements are placed next to both number 5 tiles. They get wool and brick.
Every player must act when the dice is rolled and request their resources when the dice has been thrown.
One of the most interesting things about Catan is that you need to remember to play the odds (one of the 7 Catan Strategies we recommend). Two and twelve get a single dot because they each take a very specific roll (each dice showing a one; or each dice showing a six). After the number seven; six and eight are the numbers most likely to be rolled.
7 is the most likely number to be rolled with two dice and that's when all hell breaks lose, at least in our games.
How does the robber work in Catan?
If you roll a 7 on your turn in Catan, you get to move the robber.
If you (or any other player in the game) has more than 7 resource cards in their hand they have to return half of them (rounded down) back to the 'bank'.
You then get to place the robber on any other number on the board. The effect of doing so means that until the robber is moved again, the players with settlements adjacent to the number will not be able to collect any resources.
You ALSO get to steal a resource from the player with a settlement next to the number you've chosen. So you don't only stop them getting resources, you can steal the resources they have. This always winds our family up.
2. Trade with other players/ and or the bank
In Catan you can either trade with other players or with the 'bank'.
The rules call trading with other players – Domestic trading.
Once you've rolled the dice and collected your resources (above) you can ask other players to trade with you. You can either say what you want, or ask what they would give you. You can barter and refuse to deal. Other players can make counter offers (but only to you) they can't trade with each other on your go.
Maritime trading – trading with the bank/the resource pile.
Trading with the bank allows you to trade four of one resource for one of another. It's not a great exchange rate but if the other players are refusing to trade with you or don't have any of the resource you need then this might be the way to go.
You can always do this, but if you have built a settlement or a city on a harbour then sometimes you can trade 3:1 or 2:1 depending on the set up of the board. In our 7 Catan Strategies post we call this our Port Strategy.
3. Build something/take cards
After you've rolled the dice, collected resources, and traded, you can finally build something, or collect a development card if you have the right resources to do so.
At the point of your turn you can either build road, cities or settlements or take a development card. You need to check the building card you have in front of you to work out what resources you need for which building or development card.
How to win Catan
You win Catan by being the first player to get 10 victory points.
Scoring in Catan
Settlement – 1 victory point
Cities – 2 victory points
Longest Road of five or more – 2 victory points
Largest Army of three or more – 2 victory points
For more information on how to get the longest road, or the largest army, do read our Top 7 Catan Strategies post.