If you are a fan of Catan you will know you can add to enhance game play by adding Expansions, you will need a Catan Base Game in order to play Catan Traders & Barbarians. However this will add a whole new element of game play to the game. The game like Settlers of Catan is for 2-4 players and can also be played alongside other Catan Expansions and Extensions as long as you are also playing the Catan Base Game.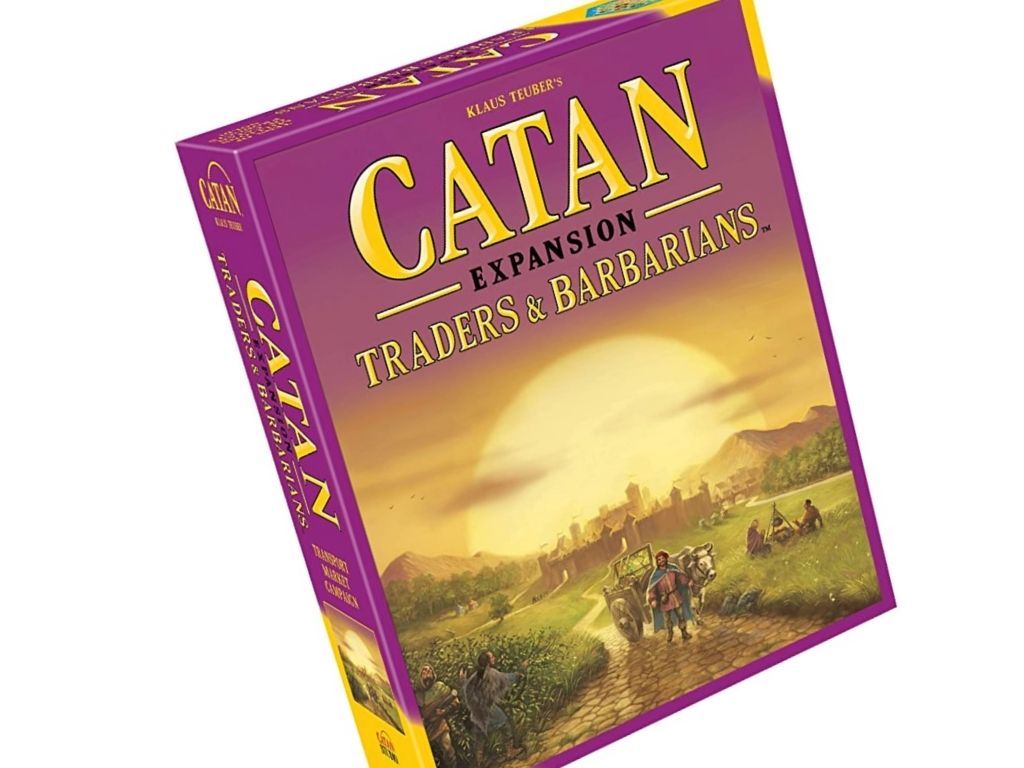 This post may contain affiliate links. Which means we may receive a small commission if you click a link and purchase something that we have recommended at no extra cost to yourself. As an amazon, associate, we earn from qualifying purchases.
So What Is Catan Traders & Barbarians About?
Catan Traders and Barbarians tells the story of Catan after the first settlements and cities are built. The game has lots of options offering 4 variants and 5 scenarios within the box.
The players must transport glass and marble to the castle hex as well as providing the glassworks with sand and the marble quarry with tools.
Each commodity transported will be rewarded with gold which counts as a victory point. To win the game you must be the first player to reach 13 victory points.
The 4 Variations Of Traders And Barbarians Are…
Catan For Two
These cards are for when only 2 players are playing Catan.
The Friendly Robber
The Friendly Robber adds an a new rule to game play. When a 7 is rolled or a knight card is played, the robber can't be moved to a terrain hex that is adjacent to a settlement/city of a player who only has 2 Victory points.
However, because the robber has no valid terrain hex to move onto, the robber must move to the desert hex. If this happens a resource card may not be taken from any player who only has 2 Victory points. But if a 7 is rolled and you have more that 7 resource cards you still lose half of those cards.
Catan Event Cards
Instead of rolling the dice, players draw a card on their turn. Each card,contains a series of events that must be performed.
Harbormaster
Any settlement bordering a harbor will earn one Harbor Point, also any city bordering a harbor earns two Harbor Points. The player with the most Harbor Points, but they must have at least three, is then awarded the Harbormaster bonus, this is worth two Victory Points.
The 5 Scenarios Of Traders And Barbarians
The Fishermen of Catan
The Rivers of Catan
The Caravans
Barbarian Attack
Traders & Barbarians
What's In The Box
24 wooden knights.
12 wooden bridges.
36 wooden barbarians.
22 wooden camels.
4 wooden wagons.
14 new region and water tile pieces.
Special victory point cards and tokens.
17 terrain tiles, fishing ground tiles, and sea frame pieces.
40 gold coin counters, 25 small and 15 large.
1 special victory point card Harbormaster.
4 special tiles, 1 Wealthiest Settler, and 3, Poor Settler.
21 trade tokens.
36 commodity tokens
30 fish tokens.
1 Variants & Campaign Scenarios booklet.
Plus 120 New Cards
1 set of cards for Catan Event Cards variant.
4 cards for The Fishermen of Catan scenario.
1 set of cards for Barbarian Attack scenario.
2 set of cards for Traders & Barbarians variant.
Can You Get An Extension For Catan Traders And Barbarians?
Yes, you can purchase a 5-6 player extension to add players to the existing Settlers of Catan and Traders and Barbarians. However you will also need the Settlers Of Catan 5-6 player extension.