If you're on this site it's probably because you love the game Catan or Settlers of Catan. Catan is fairly simple to learn, but can become more complex with all of the expansions and scenarios available.
If you love Catan or love someone else who loves Catan then we've put together some fantastic gifts for Catan Fans for you to buy.
Catan Extensions – Gifts for Catan Fans
What about one of the many extensions? We have a round up of all the Extensions for Catan you can buy in this post.
Card Holder / Organiser for Catan Cards
How awesome is this Catan Card Holder from Tonyslaserdesigns on Etsy. We think it looks brilliant, it gets great reviews and is really useful too.
Personalised Catan Player Piece Holder – Oak
Again from Etsy but this time by HandcraftdByJon – with reviews like this – "What a fantastic gift! – The finish is amazing. – Jon responds quickly and is so easy to communicate with. – It was created, finished and sent far quicker than I anticipated, exceeding all of my expectations. I would not hesitate to get a gift from him again and I have already recommended it to others!" what's stopping you from buying it.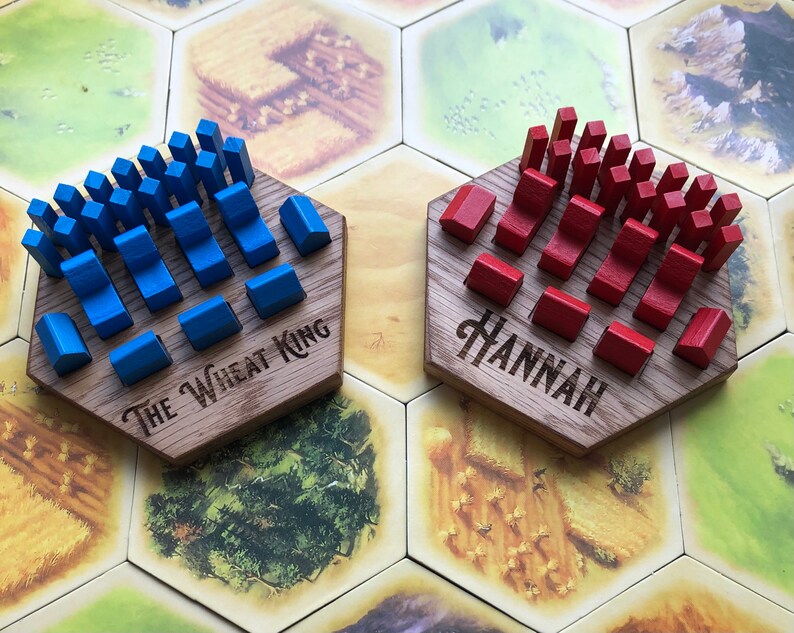 Catan T-shirt for Catan Fans
We built this City on Rock and Wheat t-shirt! Follow this link for more Catan Puns & Jokes.
Catan Print by Displate
A Settler of Catan overlooking he's farming fields. Inspired by the boardgame Catan. Displate is a one-of-a-kind metal poster designed to capture your unique passions. Sturdy, magnet mounted, and durable – not to mention easy on the eyes!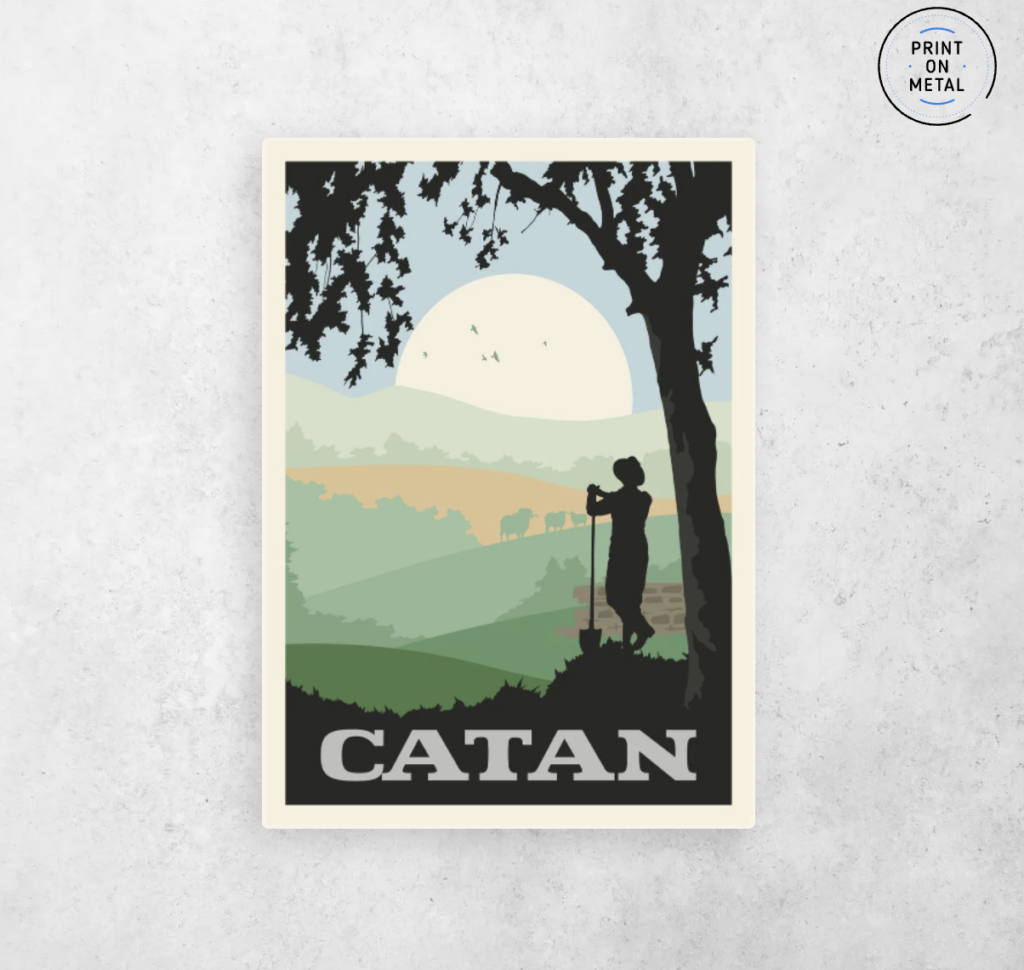 Settlers of Catan Coaster Set
Show you love Catan with this set of 6 Coasters with the fun theme of Settlers of Catan. They will delight your game playing friends.
You can serve their drinks on these coasters while you play this fun board game or use them for a fun conversation piece.
They come in a handy holder which also follows the theme of the board game and stores the coasters upright to save on space.
They are cut from 1/4″ Baltic Birch Wood and are coated with a moisture resistant finish.
You can also give these as a gift to your Settlers of Catan loving friends.
Please Don't Roll a Seven (Black Text) Sticker
The perfect cheap gift for Catan Fans who can use this anywhere – a please don't roll a seven sticker.
Catan Puzzle Book
How about a Catan Puzzle Book as a gift for Catan Fans?
Inspired by the best-selling board game that has sold over 30 million copies, the Catan Puzzle Book is the perfect gift for fans of the Catan franchise who want to expand beyond the board game experience.
The timeless world of Catan is waiting for you to explore, build, settle… and solve! Inside the Catan Puzzle Book are 100 original puzzles based on the wildly popular board game, providing a narrative adventure that allows you to discover the unsettled island of Catan.