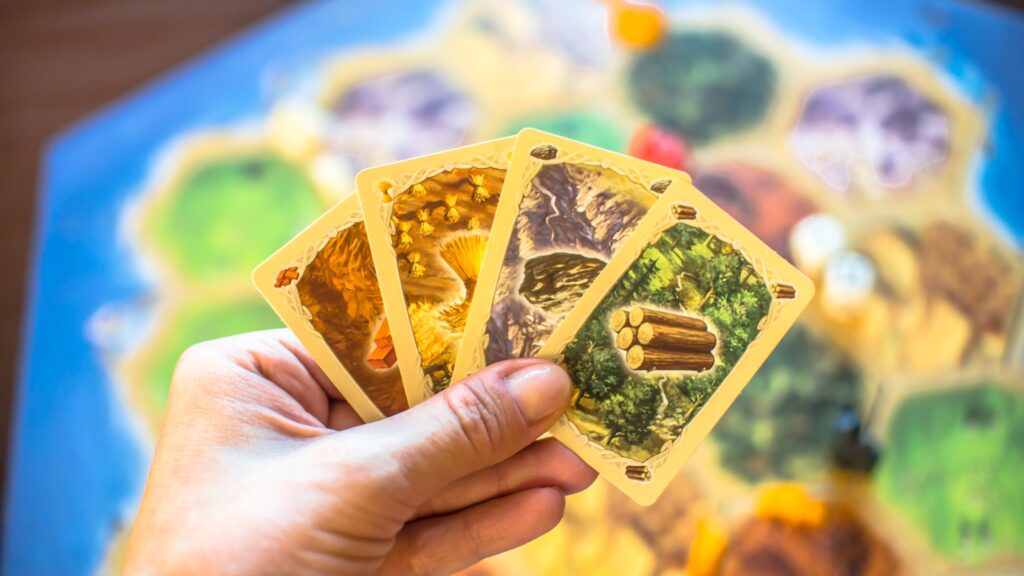 Do you love Catan so much that you want to travel with it? I know many people who have purpose made bags for carrying their Catan around in (really I do) BUT did you know that Catan has actually made a number of different versions of Catan for traveling?
There are four Catan Travel Editions: Struggle for Catan, Catan Traveler, Rivals for Catan and Catan Dice Game.
Struggle for Catan
Struggle for Catan is a Board Game for Ages 10+ for 2-4 Players which only takes 30 Minutes to play.
What is Struggle for Catan?
A simplified and fast-paced way to play Catan without a board. Clever back-and-forth interaction in card-play!
Awesome Michael Menzel art.
Ages 8+
2 to 4 players
30 minute playing time
The Struggle for Catan – Catan Travel
Struggle for Catan is a fast-paced, stand-alone card game for 2-4 players. Manage your resources to build roads, settlements, cities, and more. Although your kingdom and its buildings remain yours, valuable roads and knights can be taken from you by your opponents. Expand your cities to earn more victory points and create powerful special advantages. As in the Catan board game, you win by being the first to earn 10 victory points. Struggle for Catan is the perfect way to swiftly and casually explore, settle, trade, and build on the beautiful island of Catan.
About the travel version of Catan – Struggle for Catan
The game consists of 110 cards. There are 5 different resource cards: brick, lumber, grain, wool, and ore as well as building cards for roads, settlements (back: city), and city expansions. You need the resource cards to build; for example, building a road costs 1 lumber and 1 brick, and building a knight costs 1 ore, 1 wool, and 1 grain. After paying the resources, you may place the corresponding building card in front of you.
On some cards, victory points are depicted. The first player to build cards (i.e., place cards in front of him) with a total value of 10 victory points wins the game.
Catan Traveler
The most important differences between CATAN – Traveler and the CATAN base game:
All of the game components fit in a case that occupies half the space required to store the CATAN base game.
The game pieces are stored in drawers. During play, you can take the pieces directly from there as needed, and you can put them back into the drawers after the game has ended.
Roads, settlements, and cities have small pegs that allow you to securely plug them into the holes in the game board. That way, gusts of wind or an accidental jostle won't jumble up the pieces you have placed on the game board.
The two dice are stored in a dice shaker with transparent cover, which is why they practically can't be lost. You can roll the dice everywhere – even if no flat surface is available or there isn't enough space to throw the dice with your hand.
It takes only a couple of seconds to set up the game board for CATAN – Traveler. Open the case and place the 6 double-sided game board pieces. Since you can randomly combine the board pieces, there are hundreds of different ways to set up the island. As with the CATAN base game, besides completely balanced terrain hex distributions the compact version also allows for set-ups containing very few hexes of a particular terrain type, for example, mountains or hills.
People frequently travel in pairs. In order for you to settle Catan together with your partner, the compact version includes the tried-and-tested 2-player rules and the corresponding game components.
CATAN – Traveler cannot be used with the CATAN expansions; however, it is a nice and elegant alternative when traveling or on vacation – particularly if you want to settle Catan with a partner.
CATAN – Traveler is based on the same rules as the CATAN base game, its "big brother." At the beginning of the game, you and your opponents each build 2 settlements on the island of Catan. If the numbers of the terrain hexes your settlements are adjacent to are rolled, you receive resources. You use these resources – ore, brick, grain, lumber, and wool – to build roads in order to reach new settlement sites, to upgrade your settlements to cities, or to buy development cards so you can, at the right moment, turn the tide in your favor. If you lack a particular resource type, you trade with your opponents. If you trade cleverly and have a little bit of luck, you have a good chance to win the game.
Downloads for the Catan Traveler
Rivals For Catan 2 Player Card Game
Each player portrays a prince or princess of Catan, the aim is to grow your individual province, but also compete to build a more successful province than the other.
There is a standard version of Rivals for Catan and a Deluxe Version of Rivals for Catan.
The game puts you in charge of one of two factions developing the recently-settled island of Catan. Use a unique card mix to create your own principality and outsmart your rival! Explore and settle new lands, while you acquire and trade resources. Use gold, resource combinations, and the roll of the dice to develop your domain. Expand your settlements and cities, recruit heroes, and defend your lands through politics, invention, and intrigue. A clever strategy and a dash of luck decides who will be Prince of Catan!
Box Contains
180 Cards
Production Die
Event Die
Trade Token
Hero Token
Rules and Card Index
Extensions For Rivals Of Catan
Age of Enlightenment
Age Of Darkness
Catan Dice Game
In the dice game version of CATAN, you also build settlements, roads, cities, and knights.
Here, however, building doesn't mean placing wooden or plastic game pieces on a game board. Instead, each player has a sheet depicting a smaller version of the island of Catan. You build by filling in the respective symbols for roads, knights, settlements, and cities.
Building a road, settlement, or city costs the same resources as in the big brother version of the game, but the way you obtain the required resources is completely different.
On your turn, you may roll 6 special dice up to three times. After each dice roll, you may either set aside part of the dice or roll all dice again.
Each side of a die depicts one of CATAN's resources: brick, lumber, wool, grain, ore, or gold.
For example, if you roll 2 lumber, 2 brick, 1 grain, and 1 wool, you may build – i.e., fill in – a road and a settlement.
Each side of a die depicts one of Catan's resources: brick, lumber, wool, grain, ore, or gold.
For example, if you roll 2 lumber, 2 brick, 1 grain, and 1 wool, you may build – i.e., fill in – a road and a settlement.
Of course, you also must observe certain rules when building. At the beginning of the game, the first road is already depicted as a built road. Starting from this road, you continue building more roads. Each road built is worth 1 point. The order in which settlements and cities must be built corresponds to the number of points they are worth, from low to high. The points for building a settlement increase from 3 to 11, and the points for building a city even rise from 7 to 30. Since you can build a city or settlement only adjacent to an already built road, you might often find yourself in a situation where you wonder whether you should build a city, which is more lucrative but more difficult to build, or a settlement, which is less lucrative but easier to build.
And what is the task of Catan's knights? Well, each of the 6 terrain hexes depicts the contours of a knight.
If you build (fill in) a knight, once during the game you may use the resource of a terrain hex where a knight was built in place of another resource of your choice.
That is, after the third dice roll you may turn one of the dice so that the resource corresponding to this knight's hex is face up.
After building, you enter your points in one of the 15 boxes depicted on your sheet. The game ends after each player has finished 15 turns. The player with the highest score wins.
The CATAN Dice Game is great for play on-the-go or during those moments "in between".
It is easy to learn and doesn't take long to play.
You can even play it as a single-player game.
From the Makers of Catan!
English Version | 1 to 4 Players | Ages 7+ | 20 to 40 Minute Playing Time
Rules for the Catan Dice Game